James Larson
Programmer/Analyst Consultant
A.K.A. Computer Guy
A.K.A. Internet Grandpa
Resume

Remember, it takes hard work to make computers easy to use.
My brother, Jim, or James as he preferred to be called, died suddenly of a heart attack in his family home in Huber Heights, Ohio. He was one of the kindest, most thoughtful gentleman I ever knew. God didn't have much finishing work to do when he brought James home. Love.
James Allen Larson,
Sept 15th, 1958 to March 18th, 2015.
Rest In Peace.
---
A special tribute to the brave men and women who serve in the United States Armed Forces.

These photos each tell a story!
---
May God Bless the U.S.A.


Links to other sites I like.



NEW! Announcing Video Tutorials!


Multimedia Logic - Tutorial 1 - Simple Circuits
I am asking for your support so I can continue adding original content to this site and start my new enterprise, Internet Grandpa Do you have a precosious child asking a lot of computer questions you can't answer? Let me try! Just have her/him type their question under your email account and send it to me. I'll respond to you as best I can. At the very least, my explanation might help you answer your child's question.
The animation on the left tells a story. Can you figure it out? Can your child? If not, then read the explanation here.
To Cuss or Not to Cuss -- That is the Question
\

A Short Essay
---
Jones Forth ported to Windows
Yes, Forth Fans, the popular JonesForth Tutorial, written by Richard Jones, has been ported by Yours Truly to Windows 32. I call my port, "JonesForthInC", to differentiate it from Jones' excellent work. The low-level primitives are still written in in-line assembler, so it can be expected to run as fast as the original, and except for a few additions to make it more ANS compliant, it is still a minimalist implementation. If you've hankered to grok Forth from the bit level up, this is the tutorial for you!


JonesForthInC


Get the cannonical Gold Standard from here:

Richard W.M. Jones blog
---
P2 Compiler Porting Club
Come join an elite group of computer enthusiasts who love C and Pascal.
Click here for details
---
Paintings of Jesus
A friend tossed these over the transom. I have no idea who the artist is. They are too beautiful not to share.

Art Gallery

Art Gallery Two
Jesus Laughing!
I believe Jesus was fully human, and fully Diety. It makes perfect sense that he would have a sense of humor, and would laugh from time to time. There is an artist out there who likes to paint doors with images of Jesus laughing. The page below is an example of his work. 'Tis beautiful to behold! Jesus Laughing

---
P2 Compiler Porting Club
Come join an elite group of computer enthusiasts who love C and Pascal.
Click here for details
---
On-line Tutoring Service!
Are you in college or high school and need help in any of these subjects?



Computer Programming Languages
(DHTML * JavaScript * C/C++ * Pascal * Assembler * Visual Basic for Applications VBA)

Digital Logic
(Multimedia Logic * LogicWorks)


Ask the first question for free! Use PayPal to pay. If I can't help, you don't pay!
Send email to jlarson43@juno.com
---
Fruitcake!
---
Another favorite family receipt from the archives of the Larson Family! Aunt Emma's Danish Pudding!

---
Multimedia Logic Check out this collection of advanced project files for George Mills' Multimedia Logic emulator. It is way cool!


Project Files Page
---
Digital Logic Primer that demonstrates the foundational building blocks of modern binary digial computers. Great for children, as it has switches that work, and simulated LED's. See what a Truth Table is. Learn about Inputs and Outputs. Discover how And Gates, Or Gates and Inverter Gates work.

Digital Logic Primer & Exam
---
Announcing
Paper Tape Conversion Service
I own a General Electric Paper Tape Reader that I can use to copy your paper tapes to a DOS file. Binary or ASCII, makes no difference. Each tape read twice, with the second pass being compared character by character to the first. If the tape is in PDP-8 RIM or BINARY format, can provide a disassembly listing of tape. Turn around in as little as 24 hours.
$200 for 150 foot tape.
---
"Some engineers believe in KISS (Keep It Simple, Stupid). Others find job security in extreme complexity. If the system is too simple, it won't work. If it is too complex, it can't be sustained. The best designs seek a happy medium."
---
One of my first JavaScript pages. This puzzle should work in all browsers -- NetScape, FireFox, Mozilla, and, of course, Internet Explorer. So, Enjoy!


An Amateur Film Review -- Mel Gibson's The Passion of the Christ

Almost ten years ago, I turned a college research paper into an article and submitted it to a national alarm dealer's magazine for publication. The editor was interested, but not after the Powers that Be read it. I received a call from a total stranger asking me if I believed what I had written in this article. I said, "Yes, I did..." and suddenly the editor wasn't interested any more.

The magazine did list it in their Reader Service section, and I did get a few requests for a mail out, but that isn't the same.

So, here it is: the unpublishable Reliability, Computers, and Your Central Station

Classic Computer Games Page

Yes, these classic games have been adapted for the Internet for your enjoyment. Please check them out!

This is my first CGI program. It will allow you to look up a zipcode to see what city and state it is in, or look up a city to find out what states or zipcodes it has or is in.
Zipcode & City Lookup Program

The Computer Doctor is on CALL!

Yes, indeed! And I make house calls! Is your computer sick with a virus from the Internet? Need more hard drive space? You could unhook your computer and take it to the local Computer Store, but if you are like most people, you have better things to do with your time than deal with a myrid of undecipherable cables and wires lurking behind your computer desk...

SO...

The next time your computer gets sick, just call me, make an appointment, and I will come to you and fix your system with no muss, no fuss!

Please click on the Advertisement links below

Just print one out, and post it around your place of business. Or, cut out the attached business card sized notes and hand them out to your friends!

Now, I join a growing cadre of Internet Engineers who post details about ancient computer equipment on their web site. I have a paper tape reader manufactured by General Electric that I present, complete with schematics and a circuit to interface it to my PC. So, enjoy! Marvel at how far we've come!
Folks, there is a wealth of historical information on the net just waiting to be perused. Here is an example from Finance - Requirements for the Records and control of a Business by J. W. PONTIUS. He said, in part, at the 1956 GE Computer Symposium during the Finance portion:

...Standard black boxes will probably be cabled together; the situation will be very similar to that of the telephone networks in which it [h]as gradually become possible to design standard equipment which is reliable despite the millions of input and output points...When we have this twenty years of development behind us, then I believe that it will be rare to walk into any factory in a company of substantial size and not observe boxes throughout the factory containing electronic gear which is simple and reliable...

Full text of speach
Prescient, don't you agree?
This, and much, much more can be found at:
www.smecc.org
Southwest Museum of Engineering, Communications and Computation
Exhibits include papers on vaccuum tube design and computer symposiums.
They say immitation is the sincerest form of flattery. Well, the curator of SMECC thought my tape reader was so cool, he asked to include it on his museum website. Check it out!
My GE Tape Reader In a Museum!
---
I wrote this statement of faith after having received a jury sumnons.
I believe the following deserves enshrinement on the World Wide Web. It is too good to allow to rot on a bookshelf. Please read it slowly, reverently, and often...
REMEMBER.PRG -- Sometimes we forget...
Here are my contributions to Christian Apologetics on the subject of Origins. The first was written to Dr. Laura:
And this one is addressed to Neal Boortz:
Here is my lame attempt at poetic verse. Go ahead, laugh and wretch all you want. With a world population of many billions, somebody out there in cyberspace is likely to appreciate it.
These have been rattling around in my head for some time.
My friend Andy writes poetry. His style is different than mine. I know it comes straight from his heart. Anyone who has been where he is at will identify. Keep your hankees handy and enjoy...
Andy is a very creative fellow. He also has his own line of t-shirts. If you'd like to buy one, drop me an email and I'll arrange it.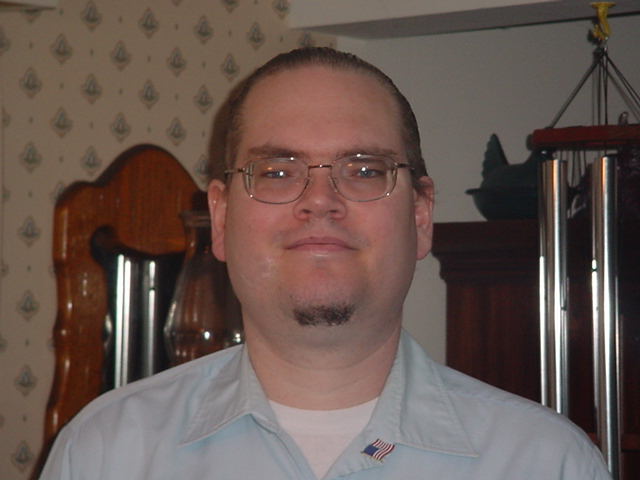 James Larson
Once upon a time, I got an unsolicited Email with a link to a PowerPoint slide presentation of a Dr. Phil personality profile test. I decided to convert it to JavaScript and HTML so everyone can enjoy it. Here it is.
Tired of problems with Internet Explorer? Then I highly recommend a free alternative called Firefox. I've been using it for well over a year and found it to be a very stable browser platform. Most of the pages found on this site will work well in it. Please check it out for yourself. It will not replace Internet Explorer, however, if you are looking at a page that is just a little off in IE, then try looking at it in Firefox. More and more websites are switching to supporting Firefox to the exclusion of IE.
---


This web site has been written and distributed by

James Larson
Programmer/Analyst Consultant
http://www.dst-corp.com/james
E-mail address
In God We Trust...